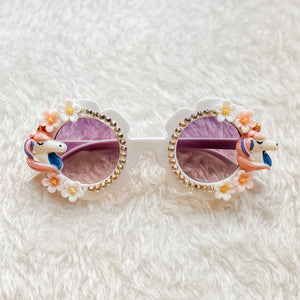 Introducing our exquisite collection of custom handmade sunglasses for children, brought to you by Fancy Funfetti. Each pair of sunglasses is meticulously crafted by our artist and owner, ensuring unmatched quality and attention to detail.
Our Classic Collection is inspired by the enchanting world of childhood, offering a delightful array of designs that will capture your child's imagination. From whimsical mermaids to vibrant rainbows, these sunglasses are a perfect blend of trendiness and fantasy. Each pair is crafted with love and dedication, reflecting our passion for creating unique accessories for children.
Our custom sunglasses are designed with both style and safety in mind. With trendy designs and vibrant colors, your little ones will make a fashion statement wherever they go. However, please be aware that these sunglasses may contain small parts, making them a potential choking hazard for children under the age of three. Always ensure adult supervision when your child is wearing these sunglasses.
To keep these precious accessories looking their best, we recommend following our care instructions. To clean, gently wipe the lenses with a soft cloth to remove any dust or smudges. Avoid using harsh chemicals or abrasive materials, as they may damage the sunglasses' delicate craftsmanship.
At Fancy Funfetti, we are committed to providing top-notch customer service and ensuring your satisfaction. Whether you're looking for a stylish addition to your child's wardrobe or a unique gift, our custom handmade sunglasses are the perfect choice. Experience the luxury and exclusivity that our brand embodies and let your child shine with confidence and style.
Please note that due to the nature of our products and for hygiene reasons, we have a strict no return policy on our collection of sunglasses. We apologize for any inconvenience this may cause and encourage you to carefully select your desired design before making a purchase. If you have any questions or concerns, please don't hesitate to reach out to our customer support team, who will be more than happy to assist you.