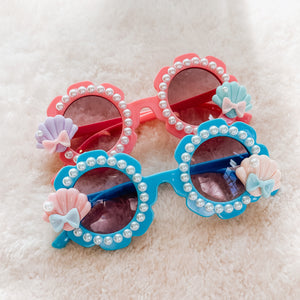 Show up in style with our handmade Funfetti Sunnies!
Sally Sea Shell Kids Sunglasses are one of the twenty custom glasses that make up our Classic Funfetti Collection! Made with the highest quality Austrian Crystals and super unique charms to give them a stylish and trendy look that will match any outfit. Our custom sunglasses are one of a kind and sure to make your child feel special. Plus, they make a great gift!

Size: Children 3+ years

This item is in stock & ready to ship. Item ships within 2-3 business days. Please note that these items are hand made with love & for that reason, charm placement may vary. We want your new accessory to last you as long as possible! Please see "care of" instructions. We do not accept returns, cancellations, or exchanges so please make note of sizing & product information before ordering. If you have any questions, please email or message us! Follow us on instagram and tik tok for updates and discounts @fancyfunfetti xo


Care of: Store in a cool, dry place. Do not tug or excessively pull, this may cause breakage. Keep away from oils and harsh chemicals. ALWAYS supervise while small children are accessorizing. Custom childrens Sunnies.